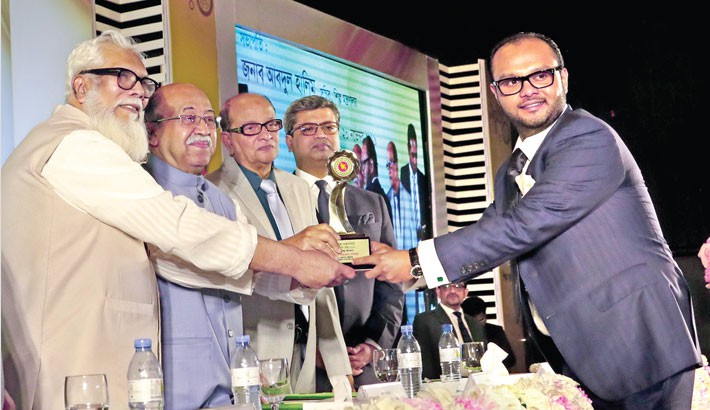 Safwan Sobhan gets CIP status
Bashundhara Group Vice-Chairman Safwan Sobhan Tasvir has been awarded 'Commercially Important Person' (CIP) status for his outstanding contributions to the industrial sector.
The government has given the CIP status to 47 other business entrepreneurs in different categories for their positive role in industries for the year 2017.
Industries Minister Nurul Majid Mahmud Humayun handed over CIP cards to the winners at a function at Sonargaon Hotel in the capital on Wednesday.
The CIPs have been selected under eight categories — ex-officio, large-scale industry, large-scale service industry, medium industry, small industry, micro-industry, cottage industry, and service industry.  Prime Minister's Private Industry and Investment Affairs Adviser Salman Fazlur Rahman, State Minister for Industries Kamal Ahmed Mojumder and President of the Federation of Bangladesh Chambers of Commerce and Industry (FBCCI) Sheikh Fazle Fahim were present as special guests at the function.
Of the 48 entrepreneurs, 42 received the cards for their outstanding performances in eight categories while six got the status under ex-officio category.
Safwan Sobhan got the CIP status in the large-scale industry category.
Abdul Matlub Ahmed received CIP card as president of the Federation of Bangladesh Chambers of Commerce and Industry (FBCCI) while Md Siddiqur Rahman as president of the Bangladesh Garment Manufacturers and Exporters Association (BGMEA), Rupali Haque Chowdhury as president of the Foreign Investors' Chamber of Commerce and Industry (FICCI), Selima Ahmed as president of the Bangladesh Women Chamber of Commerce and Industry (BWCCI), Salahuddin Kasem Khan as President of the Bangladesh Employers' Federation (BEF) and Mirza Nurul Gani Shovon as president of the National Association of Small and Cottage Industries of Bangladesh (NASCIB) received the cards under ex-officio.
CIPs from the large scale industries are BSRM Steels chairman Ali Hossain Akbar Ali, D&S Pretty Fashions Ltd chairman Mohammad Ali Talukder, Zinnat Fashions Ltd managing director Mohammad Abdul Jabbar, JMI Syringe and Medical Devices Ltd director Md Abdur Razzak, Nannu Spinning Mills Ltd managing director BM Shoeb, Hams Garments Ltd managing director Md Shafiqur Rahman, BRB Cable Industries managing director Parvez Rahman, RAK Ceramics Bangladesh Ltd managing director SAK Ekramuzzaman, Bengal Poly and Paper Sack Ltd managing director Firoz Alam, Badsha Textiles Ltd managing director Md Badsha Mia, BBS Cables Ltd managing director Abu Noman Howlader, Mir Ceramics Ltd  director Mahreen Nasir, Square Food and Beverage Ltd managing director Anjan Chowdhury and Universal Jeans managing director Md Nasir Uddin.
Other award-winners are Jaj Bhuiyan Textiles Mills Ltd chairman Mohammad Fayazur Rahman Bhuiyan, Prome Agro Food Ltd chairman Md Enamul Hassan Khan, Auko-Tex Ltd managing director Abdus Sobhan, Citadel Apparels Ltd managing director Mahidul Islam Khan, Madhobdi Dyeing Finishing Mills Ltd managing director Nizam Uddin Bhuiyan Liton, Far East Dresses Ltd managing director Ajmat Rahman, Fu-Wang Foods Ltd managing director Arif Ahmed Chowdhury, Kuliarchar Sea Foods (Cox's Bazar) Ltd chairman Md Musa Meah, Bashumati Distribution Ltd managing director ZM Golam Nabi, Navana Ltd chairman Shafiul Islam, Shanta Holdings Ltd director Jesmin Sultana, Spectra Engineers Ltd managing director Khan Md Aftabuddin, Annesha Style Ltd managing director UM Ashek, Sonali Fabrics and Textile Mills Ltd managing director Md Ali Hossain, Kiam Metal Industries Ltd managing director Md Misber Rahman, Amanat Shah Weaving Processing Ltd director Rezaul Karim,  Hundred Plus Expo Ltd director Syed Harun Gani, Fair Distribution Ltd managing director Md Ruhul Alam Al Mahbub, Jamuna Meter Industries Ltd managing director Abul Kalam Bhuiyan,  Technomedia Ltd managing director Joshoda Jibon Deb Nath, Haque Drycell Ltd managing director Adam Tamiji Haque and Smart Leather Products proprietor Masuda Yesmin Urmy.
A total of 340 businessmen have received CIP cards since 2009.
The CIP cardholders enjoy a number of facilities, including priority in seat reservation at government transport in air, road, rail and waterways, getting invitations at national events and letter of introduction from the foreign ministry for getting the visa to visit abroad.