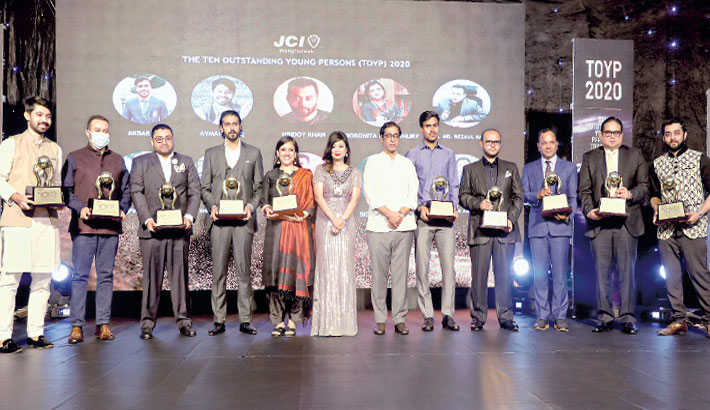 Bashundhara Group Vice-Chairman Safwan Sobhan receives TOYP award
Bashundhara Group Vice-Chairman Safwan Sobhan has been awarded the prestigious Ten Outstanding Young Persons (TOYP) of Bangladesh award.
The local chapter of US-based Junior Chamber International (JCI) recognised the Bashundhara Group vice-chairman with the award for his outstanding contribution to Bangladesh's economic development.
Virtually connected, Foreign Minister Abdul Momen was the chief guest at the Foot Award ceremony held at Le Meridian in the capital on Saturday.
Bashundhara Group Vice-Chairman Safwan Sobhan received the Toyp award from Member of Parliament Nahim Razzaq at the event.
JCI Bangladesh national treasurer Salehin F Nahiyan made the address of welcome while national president Sarah Kamal chaired the meeting.
Toyp is a flagship annual event of JCI Bangladesh to recognise top ten outstanding young persons in the country to honour youths' effort in creating sustainable impact in their respective communities.
In Toyp briefing, JCI Bangladesh mentioned Bashundhara Group Vice-Chairman Safwan Sobhan for his excellent communication, self-discipline, leadership and organizational skills. It also termed him as 'mentor to thousands' in field of economic development in the country.
Other awardees are: member of parliament Sharhan Masher Tonmoy, Dhaka Chamber of Commerce and Industries ( DCCI) president Shams Mahmud, golfer Siddiqur Rahman, cricketer Akbar Ali, singer Hridoy Khan, Ten Minute School founder Ayman Sadiq, Sheltech Managing Director Tanvir Ahmed, cultural activitist Nobonita Chowdhury and Dhaka University IBA faculty Dr Rezaul Kabir.
Mentioning the youth as future of Bangladesh, Foreign Minister said the innovative minds of the young generation always find different for doing well being of the society.
"The young people are really dynamic and award organised by JCI will inspire them to do work hard. You know, in the third world countries, there is no alternative to skill up the youths to attain the sustainable development goals" he said.
Special guest member of parliament Nahim Razzaq said the young people are future of Bangladesh as 63 per cent of its 170 million population is youth which is the driving force of development.
JCI, is a non-profit international non-governmental organization of young people between 18 and 40 years old. It has members in about 124 countries.