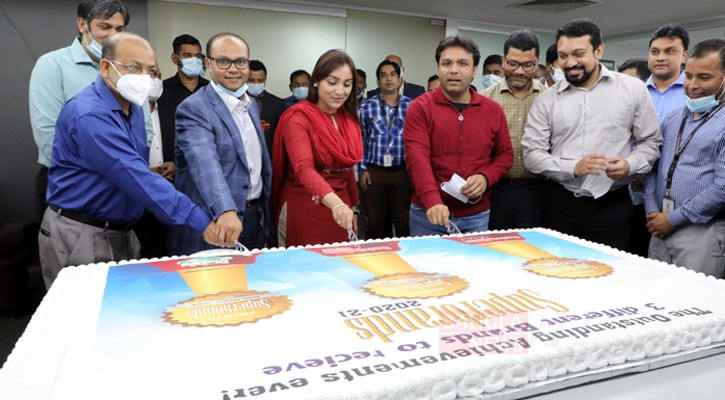 Winning Superbrands Award by Bashundhara paper, tissue and diaper celebrated
Winning Superbrands Award 2020-2021 by Bashundhara Paper, Bashundhara Tissue, and Bashundhara Diapant was celebrated on Thursday.
Bashundhara Group Vice Chairmen Shafiat Sobhan Sanvir and Safwan Sobhan Tasvir cut a cake marking the great achievement at Bashundhara Industrial Headquarters at Bashundhara residential area in the capital.
Bashundhara Group Director Yeasha Sobhan and other high-ups of the country's largest business conglomerated were also present.
The international awards bagged by three products of Bashundhara Paper Mills Ltd can be construed as a hat trick. The awards are global recognition to Bashundhara Paper Mills Ltd which always maintains its position in the confidence of the consumers by producing world-class paper, tissues, and diapers.
Bashundhara Paper embarked on a golden chapter in 1993, at a time when the country was almost dependant on imported printing and writing papers.
The brand is not only used for writing, printing or packaging purposes in Bangladesh but also exported to more than 35 other countries, sources said.
The prestigious 'Superbrands Award' has come to Bashundhara Paper for the second consecutive term, highlighting the image of the country.
Starting its journey in 2000 with a slogan of healthy living, Bashundhara Tissue has brought a radical change in the lives of the people.
The tissue has been an integral part of human life for 20 years.
Bashundhara Group has been producing world-class tissues with high quality imported pulp, state-of-the-art machinery, and skilled manpower.
Extensive distribution networks across the country have ensured access to tissues at people's doorsteps.
Bashundhara Tissue is the first to have won the Superbrands Award in the tissue paper category in Bangladesh.
Meanwhile, Bashundhara Diapant, a world-class baby diaper, started to be produced in 2016. It is at the center of trust, love, and attraction of the buyers.
In a follow-up to this success, Bashundhara Diapant has bagged Superbrands Award in the Babycare category for the first time in Bangladesh.