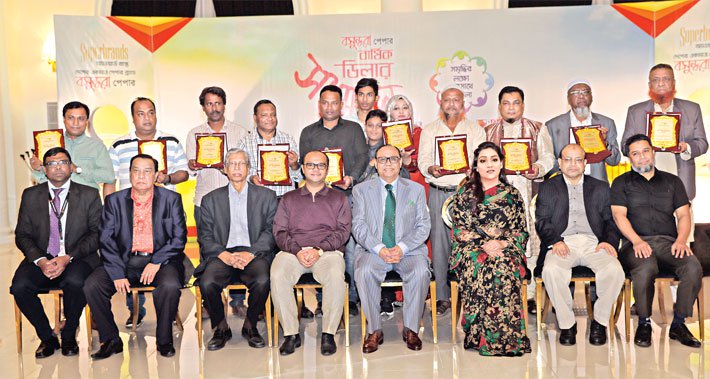 Ahmed Akbar Sobhan Wants to Keep their Footprint in all Countries across the World
Bashundhara Group Chairman Ahmed Akbar Sobhan said on Saturday that they want to keep their footprint in all countries across the world through exporting their paper products.
"Bashundhara Group will keep its footprint in all countries through exporting its paper products," he said while addressing the Bashundhara Paper Annual Dealers' Conference 2019 in the capital.
He said once Bangladesh used to import paper from different countries, including China, Sweden and India, but now it is exporting paper to many overseas markets.
Bashundhara Paper Mills Limited and Bashundhara Multi Paper Industries Limited organised the conference at the residence of Bashundhara Group Vice-Chairman Safwan Sobhan Tasvir in Bashundhara residential area.
Safwan Sobhan Tasvir, Bashundhara Group Director Yeasha Sobhan, Senior Deputy Managing Director (DMD) Belayet Hossain, DMD Md Mostafizur Rahman, Chief Financial Officer Mirza Mujahidul Islam (Sector-C) and Head of Sales (Paper) Md Masudur Rahman were present at the conference.
Bashundhara Paper awarded crests and souvenirs to top 10 dealers at the conference. Three of them got Dhaka-Bali-Dhaka air tickets.
The winners are M/S Yousuf Enterprise, M/S Mohammadia Paper House, M/S Ahmed Trading Corporation, M/S Monorom Trading, M/S Universal Traders, M/S Sky Traders and M/S National Paper House from Dhaka, M/S Kagoj from Rangpur, M/S Rangunia Store from Chattogram and M/S Samrat Store from Khulna.
Ahmed Akbar Sobhan said, "We believe that the people working with Bashundhara Group are members of our family. Our family bonding is the main inspiration behind this massive progress of our business which began in 1987."
"The owner of a tiny shop beside a road in a rural village is also a member of our family as he [the owner] is contributing to flourishing of our business by selling Bashundhara products," he added.
He said Bashundhara Group has achieved trust and love from consumers through maintaining the utmost quality of its products. "We started our tissue business, producing only one tonne a day. Today, the production has crossed 200 tonnes."
The Bashundhara Group chairman said, "From my childhood, I used to see piles of wasted paper in Old Dhaka. That time, businessmen had to wait two to three months to purchase a tonne of paper from Khulna Newsprint Mills or Karnaphuli Paper Mills. This crisis inspired me to set up a paper mill. Today, we have 13 machines in our industry. The number will increase in the future."
He highlighted the economic development taking place in the country and said every individual has been benefiting from the development.
Quoting the finance minister, Ahmed Akbar Sobhan said, "The GDP growth of the country will increase to 8.25 percent this fiscal year from 7.65 percent in the last FY."
In reply to a question from a paper dealer, he said, "Bashundhara Group won't take part in the traditional rat race like other business organisations in the country."
He mentioned that mega projects, including Padma Bridge and Rooppur Nuclear Power Plant, are being constructed by using Bashundhara Cement. "It has been possible only because of our product quality, not quantity."
Ahmed Akbar Sobhan said the quality of Bashundhara paper is higher not only than other companies in Bangladesh, but also the foreign companies. Many companies from India are importing Bashundhara paper due to its good quality, he added.
Describing the paper market as very competitive, he said Bashundhara Group launched its business as the first private paper mill in the country. "Today, the number of paper mills stands at 106, but it is very challenging to make it sustainable. Around 70 mills have been shut down as it's a very capital-intensive business."
He announced that he will award 5 katha, 4 katha and 3 katha of plots in Bashundhara residential area in the capital to top three Bashundhara paper dealers.
"It's a dream of all family to be the owner of a plot in Bashundhara R/A for its idyllic beauty. I want that my family members will live in Bashundhara R/A after winning a plot. That will definitely strengthen our bonding," he said.
Speaking at the event, Bashundhara Group Director Yeasha Sobhan said Bashundhara Paper Mills Ltd started its journey 25 years ago with a single unit. Today it has three units apart from Bashundhara Multi Paper Industries Limited unit.
Referring to Bashundhara Paper Mills receiving super brand award, she said the success has come due to the leadership of Vice-Chairman Safwan Sobhan.
In his speech, Bashundhara Group DMD Md Mostafizur Rahman said once the country used to import paper from India, now many Indian companies are importing Bashundhara paper due to its quality.
He said Bashundhara Paper Mills produces various paper products includes Art paper, security paper and currency paper.
Masudur Rahman welcomed the dealers and highly appreciated their efforts in achieving the targets last year.
He analysed the future challenges and ways to face them to achieve the target.